Letter to the Editor
NW Iowa Review
Sheldon, IA
Nov. 2, 2018
Dear Editor;
The primary purpose of the statement I read (found at www.RescueThePerishing.org) and my other activities outside the OC Pride event in Orange City (10/19/2018) was born, in part, from an act of contrition and repentance of my own.  A generation ago I stood against then-Northwestern College President Bultmann while he praised their alumni Davis, CA baby-butcher, Dr. Leon Schimmel.  I exposed it by having an airplane pull a banner over Homecoming 1995.  Eighteen years ago, I picketed NWC's heretical play 'When Scott Comes Home' which offered the satanic hope to UNrepentant homosexuals of the assurance of their salvation if they would merely name Jesus Christ.
I also opposed the rampant intrusion of classroom sex-talk and drug-ed into the lives of young people in public and Christian schools.  I stood against those who offered the fake alternatives within the Christian community (Alpha Center Here and Here, Bethany Christian Services, CPCs, etc.) and their phony abstinence education courses.  My challenge was "How can these women publicly teach about marital union apart from Christ, apart from His Word, apart from the parents and apart from Godly preaching from the pulpit? How?"  It was all so coarse.
My critics responded, "Yes, but fathers, elders and pastors aren't doing it, so we must."  I would reply, "Then call those ordained of God to repent and take back their proper responsibilities, as there is no public classroom substitute."   I soon learned that the phony abstinence instructors figured out, much like Planned Parenthood, that "sex sells".  They weren't going to give it up.   At the time members of my Presbytery told me I wasn't winsome enough and "Let God work in the hearts of these parents."  I listened to them and yielded.  I should not have.  They were wrong.  For acquiescing to my cowardly elders, I have asked God's forgiveness.
The consequences are that California abortionist Leon Schimmel was recently celebrated at a visit to Promise Community Health in Sioux Center.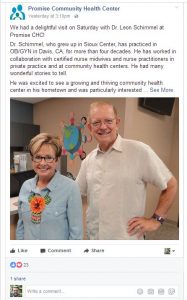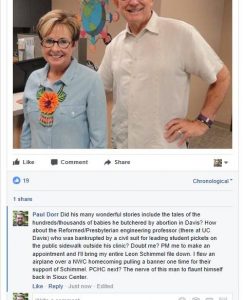 And the homosexual agenda at NWC continued on the offense during these years of ecclesiastical remission.  I deeply hold the cowardly church accountable for most of this.  It is far worse now and many young lives have been debauched!
Error, heresy and cowardice has a price.  That is why we now have a crisis in Christendom. That is why Orange City library board members can now approve books designed to seduce boys into homosexual sex and transgenderism…little boys!  These failings played a major role in yielding so many emasculated men and feminist women.  They were abandoned, so often over to soul-degrading sin, when they were children.
I am a redeemed sinner myself, and only by God's grace am I able to stand against my own sin and that in our society.   I didn't always respond to this abandonment in a Christ-like manner.  My family paid a price for my stand a generation ago, I was angry with this betrayal and was not always there to meet their needs.  But Christian civilization paid a far greater price because hundreds of leaders in this region feared their loss of popularity and income and didn't humble themselves, seek courage in Christ's love and act faithfully and boldly to protect and build-up the children.  Degradation and degeneration among so many young singles, couples and their families now abound!   Many of the young children back then stand today in pulpits, academic halls, courtrooms and in media – often oblivious and making matters much worse.
For many others of today's millennial generation, I can begin to see their rage against patriarchy as the   patriarchs were phony and refused to protect their own children and instruct them in faith and righteousness.
As far as the city of Orange City's property goes, I chose the course I took to leverage the truth into the churches.  It is time to separate the sheep from the goats.  The goats will bleat about the $70 of city property lost.  The sheep will realize the great, great harm done to the souls of so many children by this filth and decide to repent before God and stand up against it and so many other areas where they failed.
I am a 1974 graduate of Unity Christian High School.  I loved Christ since a child but came to understand and believe the wonderment of covenant theology, in part, by the instruction of Miss Anne DeVries in Unity's Bible Class.  Sharing this class with me was now-Orange City Council member Earl Woudstra.  Earl knows better but sits ever so strategically silent.  I have a love for Christ, His bride, His Word and a fondness for Orange City area, because this is where God worked powerfully in my life as a youth.  I weep for their error and looming judgment.
I chose this course ready to receive whatever sanctions the city of Orange City and the Sioux County attorney would choose to mete out against me.  No, I had no special revelation from God but I know that when His people are turned over to apostasy, God called for the destruction of their idols. Their property rights were not an issue for Him. (Number 33:52, Deut. 12:1-3, Ezekiel 6:3, etc.).
Further, in 432 AD the High King Laoghaire (of Ireland) forbade the lighting of any fires on a night approaching the pagan festival of Ostara when he would light the great bonfire on the Hill of Tara. This occasion corresponded to the Christian observance of Easter.  In defiance of the law, St. Patrick lit his own fire on the Hill of Slane, across from Tara, which burned so brightly that the king saw it and sent his soldiers to arrest whoever had defied him and to douse the flame.  St. Patrick's civil disobedience was the beginning of Christianity coming to that land.
When St. Boniface chopped down Thor's oak, a tree sacred to the pagan tribes of Germany in 723 AD near Hesse, Germany, he cared not for whose property it was.  As it was used to worship their idol gods and had to go!  The pagans were convinced he would die because of it.  He lived and used the wood from the tree to build one of the first churches in Germany and started the church in that nation.
Worship of the civil magistrate and one of its tools of subjugation and degradation – the sexual revolution – is the idol of our day!  It needs to end.  Where Christian, do you stand?
In Christ,
Paul R. Dorr